Schedule Your Curbside Pickup or In-Person Service
We will begin offering
In-Person services
February 15.
In Person services include the following:
In Person Browsing
Computer Use 15 minutes or less
Computer Use 30 minutes
Copier/Scanning/Faxing
Picking up items
In-Person Hours:
Monday-Wednesday 12 PM – 4 PM
Thursday-Friday 2 PM – 6 PM
Saturday 10 AM – 12 PM
Curbside Service include the following:
Curbside Pickup of Club Kit(s)
Curbside Pickup of Craft Kit(s)
Curbside Pickup of Learning Kit(s)
Curbside Pickup of Library Material
Curbside Pickup of Library Material and Kits
Curbside Pickup Hours:
Monday-Friday 10 AM – 6 PM
Saturday 10 AM – 12 PM
How to do a curbside pickup 
Place your request, either using the MORE webpage www.more.lib.wi.us or have our staff fill your request by filling out a curbside request form (click for form on the "curbside request form box).
Come to the library at your appointment time.  Come to the front door and the ring the doorbell, located on the pillar. One of the staff members will gladly hand you your items.
Request library items to pickup from the comfort of our your own home.
Ask a librarian for recommendations on your next read!  We would love to put together a reading bundle just for you.
Help Us Improve Broadband Access in Wisconsin
Take a quick internet speed test on your home computer. 3 clicks. No questions. It's that simple.
In order to get an accurate picture of the state, we need a lot of accurate data. The more data M-Lab can collect, the better we can model internet connection speeds across the state. Please take the home internet speed test today. You can take the test multiple times until March 15.

Virtual Programs
For now we are keeping ALL programs virtual.   This is to keep everyone safe and healthy. You are able to enjoy a craft evening in the comfort of your own home, while still seeing everyone and crafting and learning. Sign up for a virtual program. When you sign up you will receive a kit for the program and a link for the program when it happens. Programs are for all ages. Sign up today!!!
Use the Digital Library!
Escape with books and library resources…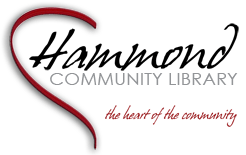 Hammond Community Library
850 Davis Street
P.O. Box 120
Hammond, WI 54015
715-796-2281
mjohnson@hammondpubliclibrary.org
Hours for In-Person Service
Monday-Wednesday    12-4
Thursday-Friday             2-6
Saturday                           10-12
Hours for curbside pickup

Monday-Friday               10-6
Saturday                            10-12
Please SCHEDULE your appointment. 
Sunday: closed