Virtual Programs
For now we are keeping ALL programs virtual.   This is to keep everyone safe and healthy. You are able to enjoy a craft evening in the comfort of your own home, while still seeing everyone and crafting and learning. Sign up for a virtual program. When you sign up you will receive a kit for the program and a link for the program when it happens. Programs are for all ages. Sign up today!!!
Use the Digital Library!
Escape with books and library resources…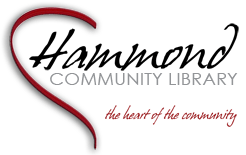 Hammond Community Library
850 Davis Street
P.O. Box 120
Hammond, WI 54015
715-796-2281
mjohnson@hammondpubliclibrary.org
Hours for In-Person Service
Monday-Thursday     9 AM - 8 PM
Friday                           9 AM - 6 PM
Saturday                      9 AM - 1 PM
Hours for curbside pickup

Monday-Friday   10 AM - 6 PM
Saturday            10 AM - 12 PM
Please SCHEDULE your appointment. 
Sunday Closed