WI/MN Book Club
Meets the 1st Tuesday of each month at 6:30 PM.  See calendar for next meeting date.  We are currently conducting all book club meetings virtually via Zoom. 
To join us send us a quick e-mail:  mjohnson@hammondpubliclibrary.org and we will make sure you receive a link for the next meeting.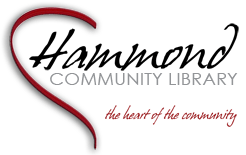 Hammond Community Library
850 Davis Street
P.O. Box 120
Hammond, WI 54015
715-796-2281
mjohnson@hammondpubliclibrary.org
Hours for curbside pickup
Monday-Friday 10-6
Schedule your appointment for pickup. 
The library is only doing curbside pickup at this time.  This is a safety measure to keep the community and staff safe during COVID-19.  
Saturday: closed
Sunday: closed