Library Board
Meetings are the third Monday of the month at 6:00 PM.
All meetings are open to the public.
Leah Tritz, President
Lori Gruber, Village Board representative
Kari Benton, Treasurer
Gretchen Weatherly, Secretary
Joy Peterson, Member at large
Library Board Meeting Minutes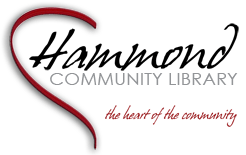 Hammond Community Library
850 Davis Street
P.O. Box 120
Hammond, WI 54015
715-796-2281
mjohnson@hammondpubliclibrary.org
Hours for curbside pickup

Monday-Friday 10-6
Saturday 10-12
Schedule your appointment for pickup. 
The library is only doing curbside pickup at this time.  This is a safety measure to keep the community and staff safe during COVID-19.  
Sunday: closed