New Library Building Project
The goal of the friends group is to focus our energy on building a new library.  Raising capital campaign dollars through fund raising and grants to build a new library. The location is all picked and land is secured, the village board granted a piece of land for the new library building near the village park. As the process moves forward we will keep you updated.
We are in need of more board directors, volunteers, grant writers, and fund raisers to join the Friends of the Hammond Community Library.  Please contact us for ways to get involved and help bring this revitalization project to life.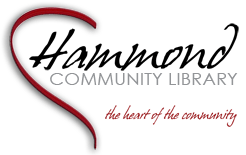 Hammond Community Library
850 Davis Street
P.O. Box 120
Hammond, WI 54015
715-796-2281
mjohnson@hammondpubliclibrary.org
Hours for In-Person Service
Monday-Thursday     9 AM - 8 PM
Friday                           9 AM - 6 PM
Saturday                      9 AM - 1 PM
Hours for curbside pickup

Monday-Friday   10 AM - 6 PM
Saturday            10 AM - 12 PM
Please SCHEDULE your appointment. 
Sunday Closed